Oak Creek Technology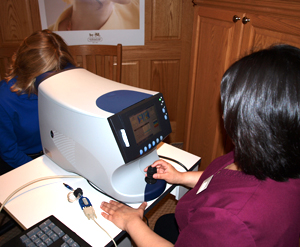 With state-of-the-art technology, we are fully equipped to meet your needs whether it be for a routine eye exam or to detect eye disease. In our Oak Creek office, for a regular eye exam you will be tested on several pieces of equipment that will measure your visual acuity, your prescription without your having to answer "which is better?" and your eye pressure. Your current glasses will be measured to help us determine how much your prescription might have changed. And our eye chart is computerized so as to prevent memorization and allowing pictures and cartoons for our younger patients. In our offices, we utilize electronic medical records and all the benefits that electronic records allow, such as email correspondence with other doctors, and electronic medication prescribing. This also allows all four of our offices to be linked in case you need or wish to visit us in different locations.
In addition to our regular exam technology, we also have advanced technology to better assess and manage glaucoma and other eye diseases. This technology includes corneal pachymetry, visual field testing and optic nerve head analysis (GDx).